His Girl Scouts Rock . . .
Welcome to His Girl Scouts Rock.org  where girls grow strong in character, leadership skills, Jesus, and outreach ministries.
Girl Scout Troop #11110 serves girls in grades 2 through 8 in Fort Lauderdale and Oakland Park, Florida.  Girls in 2nd and 3rd grade are Brownies, girls in grades 4 and 5 are Junior Girl Scouts, and girls in middle school are Cadettes.
Girl Scouts has a proud history—founded by Juliette Gordon Low in 1912 in Savannah to introduce young girls to the outdoors and activities they didn't normally get to do.
Mission Statement
Our mission statement encompasses the Girl Scout Law and Promise and a strong commitment to Jesus Christ.
Our goal is to mentor girls to become community leaders and be a light for others through fun activities.  These are just a few of the activities we enjoyed in the 2010 – 2011 Girl Scout Year:  Camping, cooking, horseback riding, sewing, kayaking, campfire cooking, car washing, Girl Scout Cookie Sales, feeding the families, helping the homeless, a toy and clothing drive benefiting 31 children at Christmas time, helping abandoned animals through Animal Aid, singing, jewelry making, pottery making, adventure sports, talent shows, learning to build campfires, cooking s'mores and so much more!
The Girl Scout Promise
On my honor, I will try:
To serve God and my country,
To help people at all times and to
Live by the Girl Scout Law.
The Girl Scout Law
I will do my best to be honest and fair,
Friendly and helpful,
Considerate and caring,
Courageous and strong,
And responsible for what I say and do
And to respect myself and others,
Respect authority,
Use resources wisely,
Make the world a better place,
And to be a sister to every Girl Scout.
If you would like to more about our Troop, please request information or contact our leader directly at Debbie@WomenWithDreams.com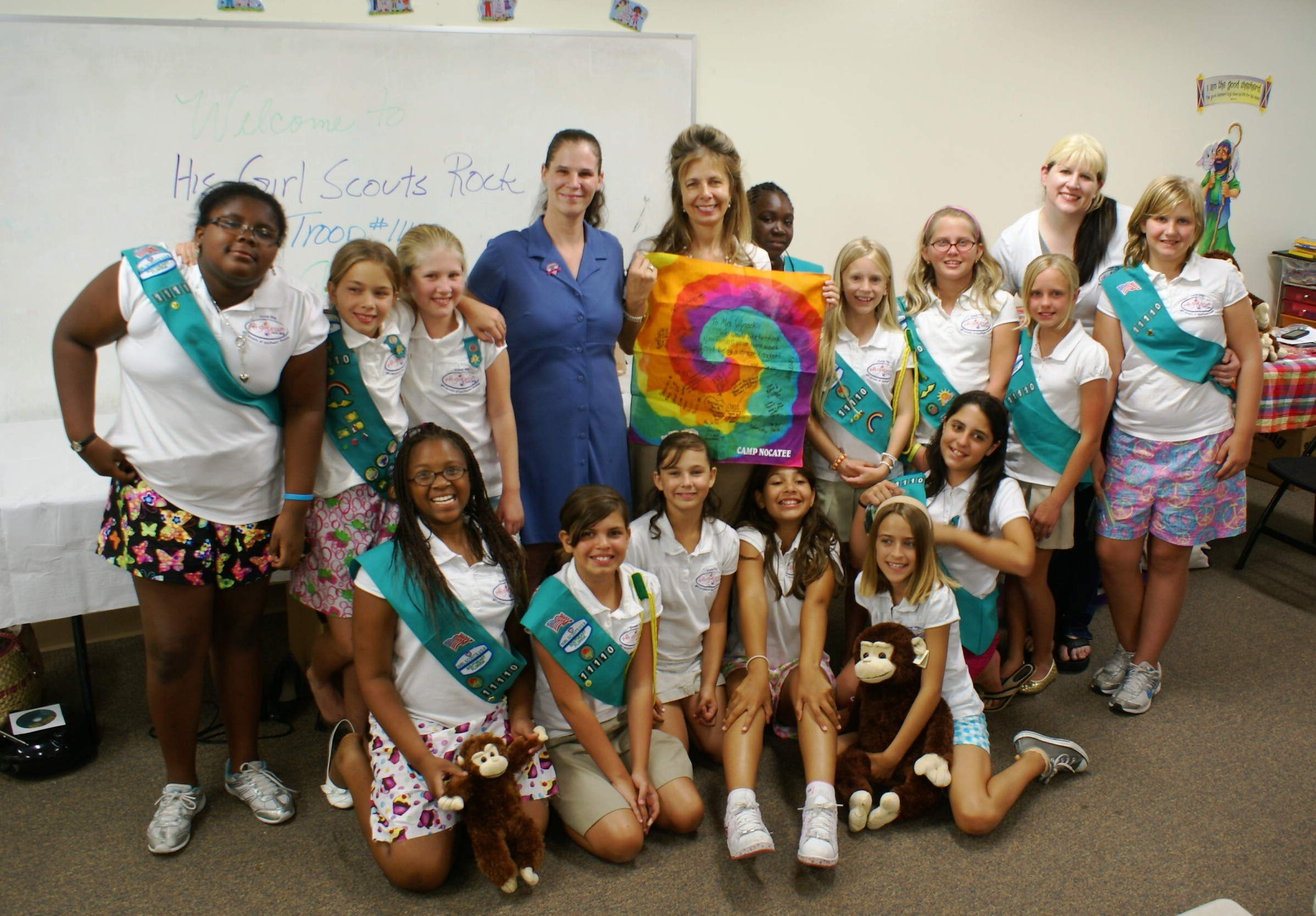 Forevever Green

We are thrilled to be approaching the 100th Anniversary of Girl Scouts of the USA on March 12, 2012, and we're gearing up to celebrate this occasion in style!  We have so many exciting plans and so many different ways to celebrate the 100th that we hope you'll visit this site over and over again to see what cool new things are happening in honor of Girl Scouting's biggest anniversary ever.

          
If you want to get involved, volunteer, or make a donation, please contact Debbie@WomenWithDreams.com  
---
Millions of active Girl Scouts, volunteers and alumnae will come together to celebrate the 100th anniversary of Girl Scouting. Will you be one of them?
The advent of this milestone provides a unique opportunity to not only reflect on the tremendous contributions the organization has made over the past 100 years but to also rally support for the next century of Girl Scouts.
Our centennial offers girls like you the chance to shape the celebration and take action in ways to define your generation.  We'd love to have you join us.